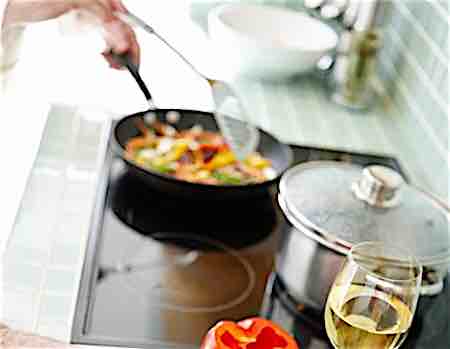 Recently I've had a lot of inquiries about silicone bakeware. There's not a great deal of research, but in my opinion it's not worth the risk. Here's some of the possible problems:
Dangers of Silicone in Bakeware?
Again, any dangers are anecdotal at this point and not scientifically backed, but that doesn't necessarily prove the safety of silicone.  Some potential dangers include:
The potential for leaching at high temperatures
Fillers used in lower-quality silicone
Potential odor during high-temperature use
These dangers are not proven and are reported only at high temperature use, but still worth investigating further.
Graniteware for Baking
My personal choice for bakeware is Granite Ware or glass. Here's why I like it:
Granite Ware Better Browning series is Made in USA
Carbon Steel core is more energy efficient and safer
Porcelain enamel surface is an inert, non-porous and naturally non-stick surface
No PFOA, PTFE or other harmful chemicals and are dishwasher safe
Carbon steel core provides excellent heat distribution
Naturally non-stick porcelain enamel surface
No harsh metals are used
Dishwasher and metal utensil safe
For cookware I use stainless steel, cast iron or glass. We don't radiate (microwave) our food we use a toaster oven or reheat food on the stove top.